Ingvald Ask, from Petersburg, Alaska lived a long, hard working life as a commercial salmon and albacore troller, and longliner on his boats the Scenic and the Agile.
Ingvald Ask, born in Petersburg, Alaska in 1921 died peacefully on the 10th of October 2017, aged 96, at Anderson House, very near his home in Shoreline Washington. He is survived by his wife, Osa, sons Einar (Juli), Erling and Erick (Mariepet), and grandchildren Knut-Andreas, Anna-Kajsa, Synnove and Solveig, and his sister Astrid. He lived a long, hard working life as a commercial salmon and albacore troller, and longliner. He was a dedicated member of the Seafood Producer's Co-op, a group he strongly supported throughout his fishing career.
Ingvald is preceded in death by his parents, Andreas and Ingrid Ask, long time Petersburg residents, and his sister Brita Oyloe of Juneau.
Ingvald's father, Andreas arrived in Petersburg from Norway in 1913, then brought his wife, Ingrid in 1917. They lived in Petersburg until 1926 when the family moved to their farm at Point Agassiz. Ingvald grew up on the farm until WWII where he served in the Army as an engineer aboard a power barge in the Aleutians. During the war Ingvald met a fisherman who told him of the wonderful life of a troller, and when Ingvald was discharged he soon got his first small boat. Then he stepped up to the Neptune, and then had the Scenic built in Petersburg, and in 1963 built the Agile in Edmonds, Washington. He fished the 48 foot Agile, sometimes alone, into his 80s.
When he was not working, Ingvald loved to visit with friends, dance, and as many remember he played the accordion.
There will be no memorial service, but you can find him at www.friendlyviking.com/ingvald , telling his stories of a life of trolling.
---
Obituaries:
Seattle Times, Monday October 23, 2017. You can leave condolences and your memories of Ingvald here.
---
YOUTUBE VIDEOS
Here you can see and hear Ingvald sharing some stories of trolling in the fifties. And more!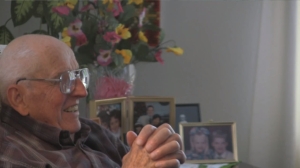 SE Alaska Salmon Trolling History (and other stories) with Ingvald Ask part one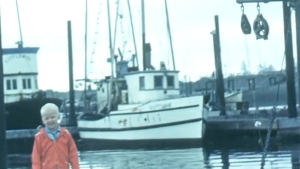 SE Alaska Salmon Trolling History (and other stories) with Ingvald Ask part two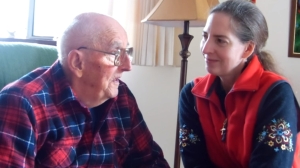 Ingvald Ask at home in Seattle, 2/21/2016.
---
Here is something I started writing almost two years ago. I'll keep adding to it, but this is a good place to leave it as it grows.
Ingvald was born in 1921, and grew up in Petersburg, Alaska during the depression. My grandparents had bought a farm near Petersburg and raised the family there. The kids in the area went to a one room school house, where education was provided to 8th grade. Fortunately, my dad received a bonus year and got a 9th grade education. 9th grade education back then was clearly superior to today's equivalence. Ingvald supplemented that education throughout his life by reading books of history, biography and autobiography.
He was the only son and had an older and a younger sister. The older sister, Brita, left the farm first, and the younger sister, Astrid, next. He did not like the isolation of living on the farm. I suppose that's why he always wanted to visit. Visiting was his favorite activity. His happiest times on the farm were when his best friend, Gordon Jensen, came out from Petersburg to spend the summers as a farm hand. I heard him reminisce about days with Gordon many times as he and I might be alone at anchor or in the cockpit of the Agile.
He spent WWII in the Aleutian Islands, running supplies. He made new friends from different walks of life and was encouraged by one in particular, Milton Peterson, who told him about the life of a salmon troller. That seemed like something Ingvald could do. He returned to Petersburg. The family still had the farm, but they had closed it up and moved back to town.
Ingvald got a small boat and rigged it for trolling. Then a larger boat, the Neptune was affordable so he moved up. After a few years fishing the Neptune he had the Scenic built in Petersburg. And then in 1964 he launched the Agile in Edmonds, WA.
He was always a self made man. He had a tremendous work ethic. He was driven. He was sometimes easy to get along with, and a few people were lucky enough to only see the good side. But like a lot of self made men, he could get cross. And it was never good to be around him when things were not going well, or if he had decided you were the cause of his problems.
He had bought a small house for his bride from Norway, and made two additions to it. Then he bought the old, smaller house next door and demolished it to build the big house that he still lives in today.
My father accomplished a lot. I fished with him for many years and I am astonished, in reflection, at how much strength and drive he had. He is 38 years older than me, so when I was 9 and fishing the Fairweather Grounds for my first time, he was already 48. When I fished halibut with him, just the two of us, when I was in my 30s he was in his 70s and that never occurred to me at the time. He continued fishing until his 80s. Often alone. What a tough guy. He was slowing by then and boat maintenance was no longer the top of his priority list. He had spent his 70s working on that family farm, trying to "make a go of it". It was like he wanted to start all over again. He wanted my mom to move to the farm with him, but she was quite situated in the home he had built in Seattle.
Finally he sold the Agile, and only worked on the farm in the summer, trying to log it. Clearing fields. Protecting his deer population. (He would not harm them, nor would he let anyone hunt them on his property.)
Some Photos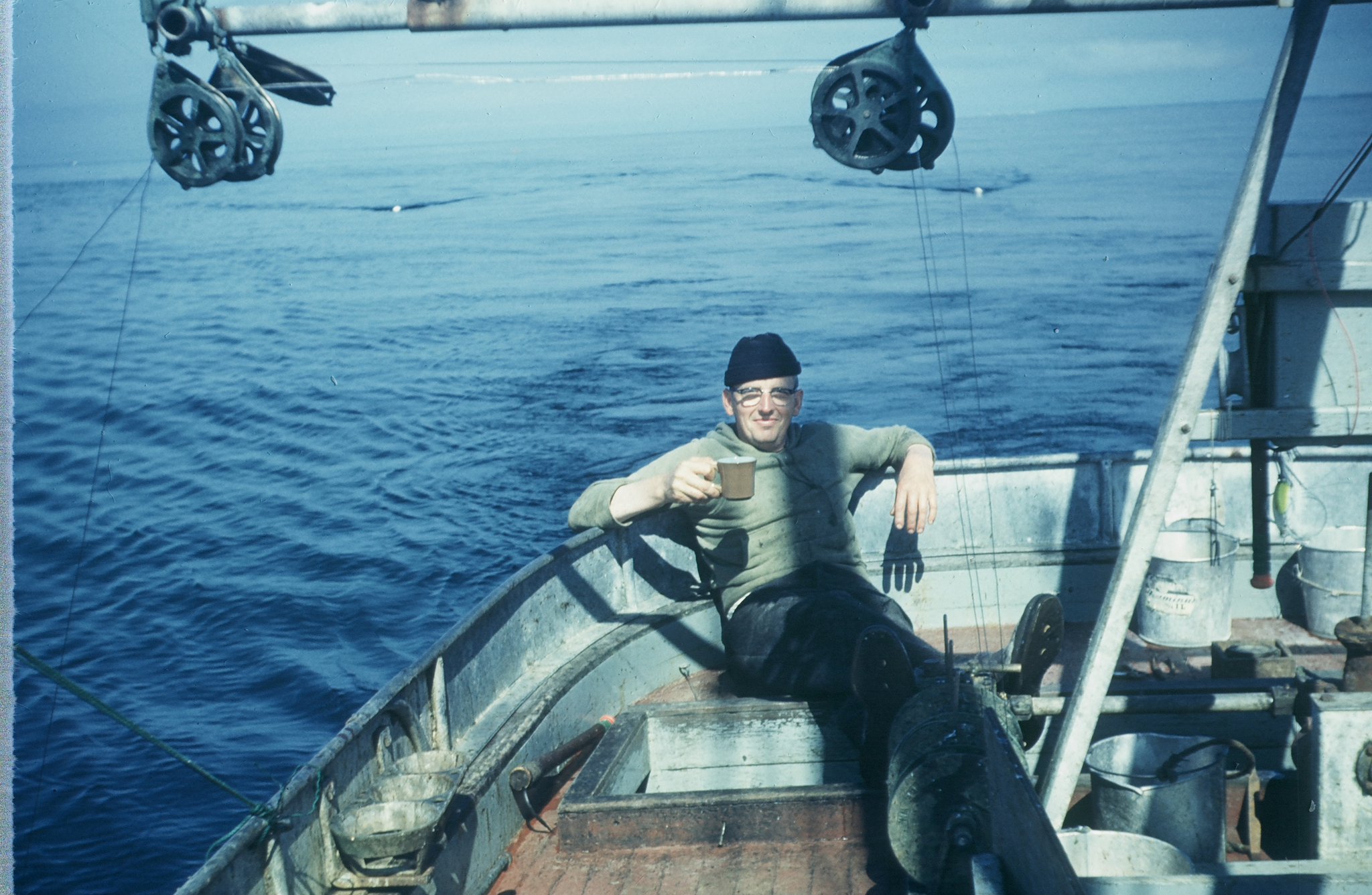 Ingvald enjoys a cup of coffee on the Fairweather Grounds on a beautiful day aboard the Scenic. 1957.